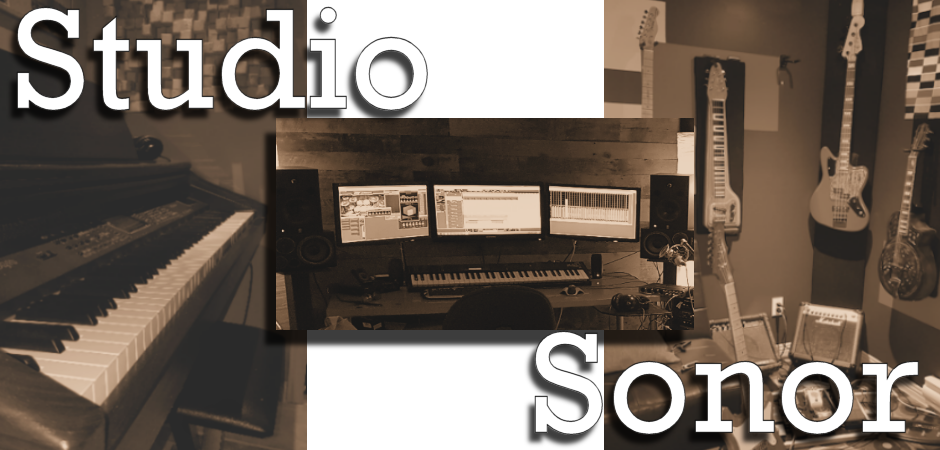 Studio Sonor c'est 25 ans d'expériences de production d'albums. C'est dans un environnement chaleureux et relax que nous aimons développer nos projets.
⇒ Conseiller et aider les artistes à réaliser leurs projets musicaux (professionnels ou amateurs).
⇒ Aider les artistes à développer leur potentiel musical leur permettant d'atteindre un niveau de performance à la hauteur de leurs aspirations.
⇒ Vous aimeriez enregistrer un démo, pour mettre sur YouTube ou bien faire une maquette de vos compositions ? Besoin d'un arrangement musical ou d'un album ? Nous sommes là..
⇒ Avec cet encadrement, Studio Sonor donne aux artistes la possibilité d'exprimer leur art musical en mettant à leur disposition des outils technologiques de pointe.
⇒ Aujourd'hui nous pouvons travailler même à distance ce qui nous permet d'être plus efficace et économique.
⇒ Studio Sonor met tout en œuvre pour mener à terme les projets qui lui sont confiés en fonction du potentiel musical des artistes et de leur budget.
⇒ Venez vivre une nouvelle aventure avec une équipe professionnelle dans le domaine de la musique.

Voici l'objectif de STUDIO SONOR


*English Version*
Studio Sonor is 25 years of production experience. It is in a warm and relaxed environment that we like to develop our projects.
⇒ Advise and help artists to carry out their musical projects (professional or amateur).
⇒ Help artists develop their musical potential allowing them to reach a level of performance that lives up to their aspirations.
⇒ Would you like to record a demo, to put on YouTube or to make a recording of your compositions? ⇒Need a musical arrangement or an album? We are here..
⇒ With this framework, Studio Sonor gives artists the opportunity to express their musical art by providing them with cutting-edge technological tools.
⇒ Today we can even work remotely which allows us to be more efficient and economical.
⇒ Studio Sonor makes every effort to complete the projects entrusted to them according to the musical potential of the artists and their budget.
⇒ Come live a new adventure with a professional team in the field of music.
This is the objective of STUDIO SONOR